Front steps, deck landing, and new patio.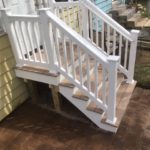 Recently, we had our falling apart concrete front steps replaced with a landing with steps to a new patio. We used Smart Choice Construction and they did excellent work with fair pricing! Dmitri Tourchiev is a wonderful person to work with and he is very professional. When he gave us his description of what he would do and how he would do it, it was obvious he really knew his stuff and we had perfect confidence in him.
He and his crew were punctual throughout the process and extremely reliable. When he said they would be there on a certain day and how long it would take, (which wasn't long at all), he kept his word and they also cleaned up everything, beautifully.
Over the past year since we bought our home, I have been horrified by so many workers and companies, from plumbers, roofers, HVAC, and electricians. So many people today are not skilled or they are not honest or reliable. It has been so refreshing to have a person and his company with such high integrity!
Dolores and Charlie Price