installation of steps and sliding glass door and kitchen remodel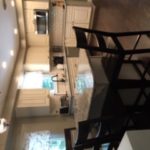 We recently had Dmitri create an exit to our patio which involved breaking open an exterior wall, installing sliding glass doors and building stairs to our concrete patio. Dmitri presented as a very honest and appeared to take a lot of pride in his work. The project was finished on time and the results were amazing.
We were so happy with the results we invited him back to complete our kitchen remodel. Dmitri was very patient and worked with us to create a wonderful plan for our kitchen. He was very organized and kept the work site very clean. He supported us through all of the decision making process and made the remodel very easy. Because of his careful planning there were no hidden cost and we remain on budget. Dmitri was punctual and reliable. We also liked that he worked hard to recycle materials from our old kitchen as much as possible to reduce our foot print on local landfills. The kitchen was finished on time and the results were phenomenal!
For us it is also important that we really liked Dmitri as a person. He was very honest and detailed oriented. We have had other services providers in our home and often times they were not respectful of our home or our routines. Dmitri and the individuals he brought in to help were overall good people and it made the intrusion of construction much easier to bare.
Dmitri will be the first person we call for any future projects in our home without a doubt.
David and Marjorie Pezzeca